The month of July every year is the time for people to remember those who devoted for the nation liberation struggle and support from the community to those families whose relatives sacrificed their lives  for the country has increased year on year. This year the movement of remembering the fallen for the nation and helping their families was held during July and in everywhere of the country.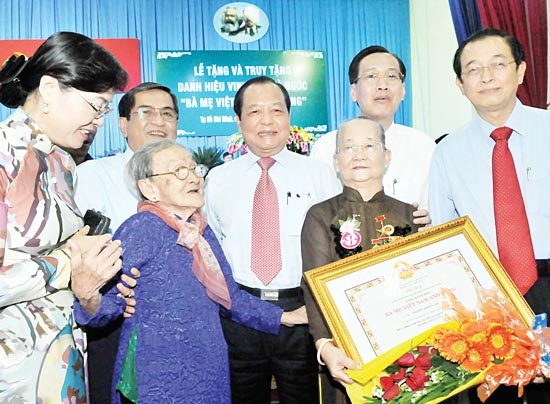 City's Party Secretary Le Thanh Hai meets Vietnamese heroic mothers, Nguyen Thi Huu Tai and Duong Thi Tinh. (Photo: Sggp)
Prime Minister Nguyen Tan Dung on July 26 attended a war memorial dedication ceremony at a war relic site which used to house the headquarters of armed forces of Rach Gia province (now known as Kien Giang province) during the anti-US resistance war from 1967-1969.
The construction aims to honor martyrs and heroes who have sacrificed their lives for national independence, unification.
In Ho Chi Minh City the award ceremony offering the title "Heroic Vietnamese Mother" to 190 mothers, including 11 alive and 179 died, , whose husbands and sons laid down for the country's independence, were held.
City's Party Secretary Le Thanh Hai expressed deeply his gratitude to mothers with their great devotions and sacrifices for the national liberation.
The city is home to 4,433 heroic mothers who have been taken care of by the local authorities and the whole community.
More than 1,000 youths participated in a candle-lit ceremony at the National Martyrs Cemetery in Quang Tri Province on July 26 in memory of fallen soldiers dedicating their lives to the nation.
Candles were also lit at other 72 martyr cemeteries in Quang Tri and 2,861 martyr cemeteries across the country, commemorating the 68th anniversary of War Invalids and Martyrs' Day.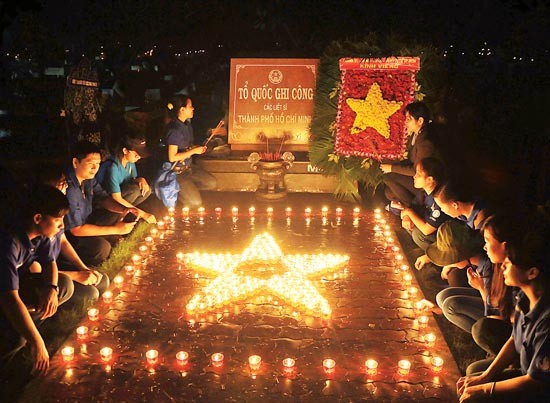 A candle-lit ceremony at Ho Chi Minh City Martyr's Cemetery (Photo:Sggp)