The Road and Rail Traffic Police Administration has reported that in just one week, from May 24-30, the country recorded a phenomenal 168 traffic accidents which killed 133 people and injured 126 others.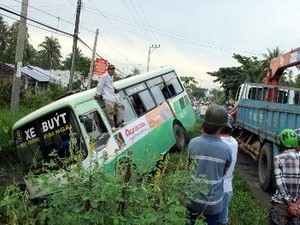 (Photo: VNA)
The average number of traffic accidents was 22 per day with 18 reported deaths and 17 cases of injuries.
Among these, three serious accidents recorded in the central highland province of Dak Lak, the northern province of Phu Tho and the north-central province of Thanh Hoa left eight dead and three badly injured.
Traffic police nationwide handled 127,500 cases of violation of traffic laws in which 223 automobiles and 11,600 motorcycles were impounded.
The Road and Rail Traffic Police Administration have instructed the traffic police to work harder to ensure traffic order and safety in the summer months this year. They should also strengthen patrolling along main highways in the country.
In related news, a tragic traffic accident occurred along Highway 1A in Quynh Luu District in the central province of Nghe An on Saturday morning, killing two and injuring nine.
At 7.10am, a truck travelling from south to north collided into a coach coming from the opposite direction. At that time, another truck plying close behind the above truck was unable to brake in time and rammed into the two vehicles.
The accident caused a heavy traffic jam on the Highway route for several hours. Initial cause of the accident was attributed to the heavy rainfall that limited driver visibility.