Yesterday, Dr. Vuong Huu Tan, Director of the Nuclear Energy Institute announced that the first nuclear power plant in Viet Nam will begin operation in 2020. This was publicized at a press conference to introduce the exhibition entitled "3rd International Exhibition of Nuclear Energy" in Ha Noi.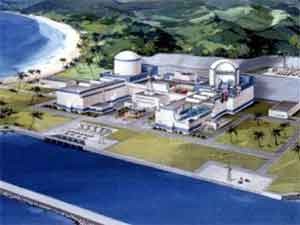 Perspective drawing of the first nuclear power plant in Viet Nam
Mr. Tan revealed that the proposal of building such a plant is being drafted and will be submitted to the Prime Minster for consideration and approval in the near future.  The 4,000mW plant worth US$3.4 billion will be built in the Phuoc Dinh Commune of Ninh Thuan Province in 2015 and will be put into operation in 2020.
Mr. Tan said that nuclear power will be the most advantageous option for the country in the future by pointing out a forecast by the Ministry of Industry and Commerce saying that the demand for power in the country is estimated to reach 230 billion kWh in 2020 and climb up to 293 billion kWh in 2030.
The 4-day exhibition will begin in Ha Noi on 14 May. During the exhibition, the public will be provided with the necessary information about the emerging trend of nuclear energy development throughout the world and about the preparation for the building of the first nuclear power plant in Viet Nam.
Aside from Viet Nam as the host, taking part in the exhibition are the International Atomic Energy Agency (IAEA), Atomic Energy of Canada Limited (AECL), China Guangdong Nuclear Power Group (CGNPC) and representatives of nuclear energy organizations from Russia, France, Japan and Korea.