Leaders from across the country joined in to wish Vietnam's most revered soldier, General Vo Nguyen Giap, on his 100th birthday in Hanoi Wednesday.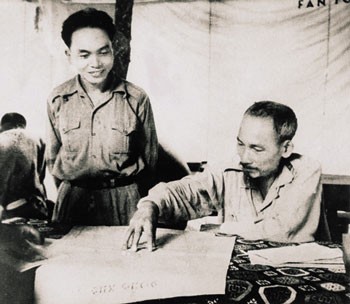 (File) File photo taken in 1950 shows President Ho Chi Minh (R) and General Vo Nguyen Giap at the Command Post of the 1950 Border Campaign
The honorable General is 100 years old Aug 25.

Party General Secretary Nguyen Phu Trong, President Truong Tan Sang, Prime Minister Nguyen Tan Dung and National Assembly Chairman Nguyen Sinh Hung called on General Giap Wednesday to wish him on this auspicious day and pray for his good health and longevity.

They all expressed their hope that the General would continue to contribute towards the Party and the country.
They said they believed the General would be a shining example and source of great pride to all generations of the Vietnamese people.
The leaders acknowledged the fact that General Giap remained the most outstanding and greatest of military strategists in history. He was an excellent disciple of President Ho Chi Minh and a protector of the Vietnamese people and the Vietnamese army.
General Giap thanked the leaders for their visit and good wishes.
On the same day, many local officials, organization heads and war veteran associations nationwide travelled to Hanoi to congratulate the General on his special day.