In a report to the National Assembly Standing Committee yesterday the Government said that there were positive signs in economic growth in the first nine months of the year but the NA Committee of Economic Affairs said the country's economy remained slow and unsustainable.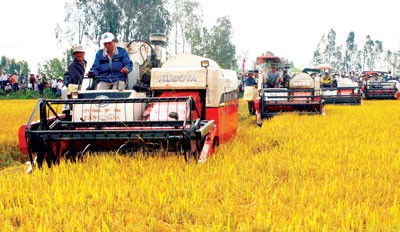 Agricultural production sees a rise of 3 percent (PHoto: SGGP)
According to the Government's report, the economy had recovered with growth rate of 5.62 percent, an increase of 0.48 percent; industry manufacturing, especially processing industry, rose 8.3 percent while it reached only 6.8 percent in the same period last year; agricultural production soared by 3 percent, highest in three years (in 2013 and 2012, it was 2.39 and 2.5 percent respectively).
However the NA Committee of Economic Affairs said that the changes of the socio-economic situation were little and it was very difficult for the Government to balance the state budget.
The Government had to call for support of all sectors, mobilized bonds at highest record and overspent, causing hiccups in carrying out socio-economic development programs this year and capital shortage in the coming years.
Moreover, the number of businesses forced to dissolve or declare bankruptcy continued to rise. The numbers of enterprises that failed, dissolved and stopped operation were still higher than newly established. Some fields including beer and cement that had made a considerable contribution to the national budget saw a low growth production amount and high inventory.
Another concern was that bad debts were major problems as banks worked ineffectively in solving bad debts. Chief of the  Committee Nguyen Van Giau said that the increase in bad debts was due to slow credit growth and rate of nonperforming loans.
Unemployment rate was reported to reduce but in fact laborers in the formal sectors moved to work in the informal sectors. In addition, more and more laborers had to turn to part-time work or were unemployed and their income was unstable.
Living condition of a majority of workers, farmers and ethnic minority people was very difficult.