The official visit to Vietnam by Prime Minister Shinzo Abe has made headlines in Japan on January 17.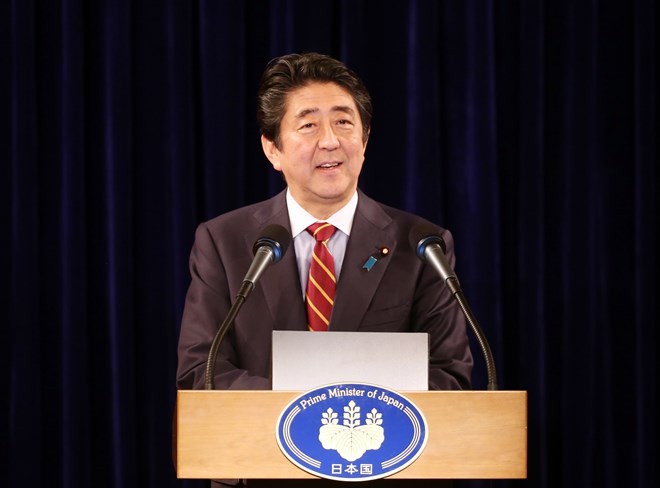 Prime Minister Shinzo Abe speaks at a press conference in Hanoi on January 16 (Photo: VNA)
Many big newspapers such as Japan Times, Yomiuri, Nihon Keizai and Sankei covered the trip, which is the third to Vietnam by Abe as PM of Japan.
They highlight the cooperation between the two countries, as seen through agreement in various issues such as collaboration to ensure maritime security and accelerate the Trans-Pacific Partnership (TPP) agreement, along with Japan's commitment to support Vietnam.
In terms of marine security cooperation, the press reported Abe's pledge to provide six patrol ships for Vietnam to help it improve patrol capacity in the East Sea.
They quoted the Japanese PM as saying that providing the patrol ships will help the Southeast Asian nation protect navigation freedom, legal regulations and peaceful means to resolve disputes.
Vietnamese PM Nguyen Xuan Phuc welcomed Abe's commitments, stressing that both countries agreed on the importance of keeping security in the East Sea and promoting the peaceful settlement of disputes in line with international law, according to the media.

They reported that the two leaders also voiced their hope for the TPP to take effect as soon as possible while vowing to keep the deal alive. The Nikkei newspaper cited PM Phuc as saying to his Japanese counterpart that TPP is an important agreement and Vietnam is stepping up preparations to ratify it.
Another move that drew attention was the pledge to give Vietnam a new loan package worth JPY 120 billion (about US$ 1.05 billion). The loan aims to support local infrastructure development, including a water drainage project, a project on developing the Hoa Lac Hi-tech Park in the suburbs of Hanoi, and others on electricity and waste treatment systems.
As the biggest assistance provider, the second biggest foreign investor and one of the key trading partners of Vietnam, Japan is becoming an "important ally" of this country, Japanese media wrote.