The CPV Politburo, under the chairmanship of secretary general Nguyen Phu Trong, held a meeting in Hanoi on July 6 with the Ho Chi Minh City Party Standing Committee, to discuss general schemes and tasks to develop HCMC in the future.
Mr. Le Thanh Hai, secretary of the HCMC Party Committee, presented a report on 25 years of innovation and 10 years of implementation of the CPV Politburo Resolution 20, under which HCMC has taken great strides, created fundamental changes in social life and contributed significantly to the overall achievement of the country.
With a population of 7.5 million in 2011 and a per capita GDP of US$ 3,286, there is a rise 2.94 times since 2002, Mr. Hai stressed.
Mr. Hai also laid out goals for the period 2011-2020 that HCMC will strive for, such as a total GDP growth per capita of 12 percent to target per capita GDP of US$ 8,500 by 2020.
"Although occupying only 0.6 percent of land area and 8.56 percent of the national population, HCMC has contributed 21.3 percent towards national GDP growth; 29.38 percent to the total state budget; 22.9 percent towards total social investment capital; 58.33 percent to number of international tourists and 43.72 percent to nationwide tourism revenue; 27.9 percent of export turnover and 26 percent in imports; 22.4 percent to value-added industries; and the average income of city residents in 2011 equaled 2.4 times that of national GDP per capita", said Mr. Le Thanh Hai.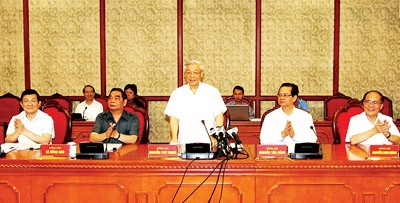 Party secretary general Nguyen Phu Trong speaks at the meeting (Photo: SGGP)
To realize the City's development goals by 2020, the City Party Committee proposed seven recommendations and petitioned the Politburo to issue a new resolution on orientation and tasks for development of the city upto 2020, in which the Central Government will permit the City to have more power to build and implement several pilot projects and create a model urban administration.
Mr. Nguyen Phu Trong said that HCMC has a key role to play in the nation's economy and has vast potential in almost every field. The City is a leading, dynamic, attractive and pervasive force that is greatly contributing new development ideas to the whole country.
Mr. Trong added that in future the City will focus on developing comprehensive key industries, take steps to grow economically and effectuate tasks of maintaining public order and social security.
The secretary general supported the main content of the recommendations of HCMC leaders and more autonomy for the City to grow, identify assignments to be done, link economic development with cultural development and assure better social welfare, social equality and justice.