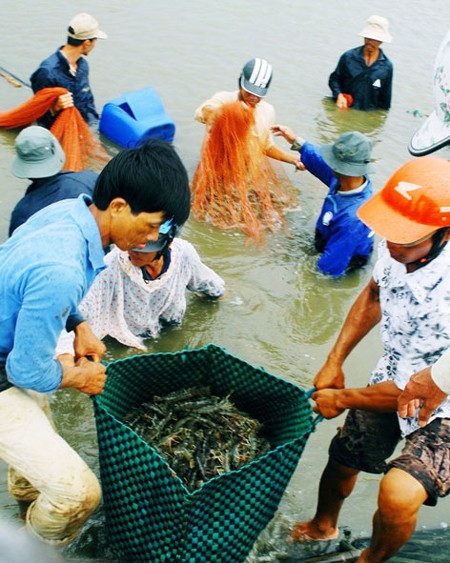 File photo shows white-leg shrimp being harvested in Ca Mau Province
An inspection team led by Nguyen Thi Xuan Thu, deputy minister of Agriculture and Rural Development, conducted checks of veterinary drugs and animal-feed manufacturing units in Ca Mau, Bac Lieu and Tra Vinh provinces from May 9-12, to uncover any illicit activities and penalise all those who are violating the law.
According to local authorities, at the beginning of the year, almost   25,000 hectares of shrimp farming area suffered serious damage, which has been attributed to use of poor-quality veterinary drugs.
Deputy Minister Thu asked local authorities to strengthen inspection of veterinary drugs and animal-feed manufacturing units and immediately revoke business licences of any one violating regulations.
She also asked authorities to seize all toxic chemical substances that are banned in Vietnam.
In addition, local authorities have been asked to check livestock farms and slaughter houses, as well as ask breeders not to use banned and harmful chemical substances in livestock-feed in order to safeguard animal produce that is being sold in the market.