Police in the Mekong delta province of Dong Thap May 6 arrested Nguyen Thai Huynh, who operated the crane truck which abruptly collapsed and caused the deaths of a mother and her two children.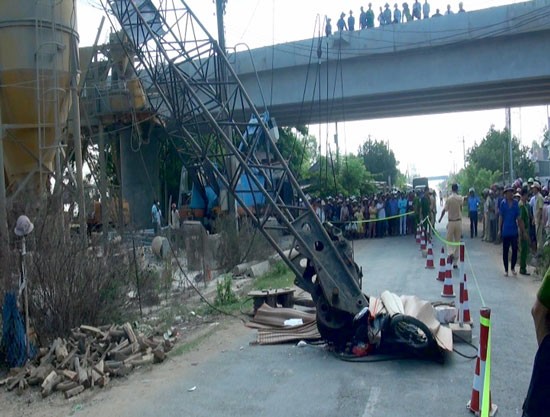 The crane falls on the mother and her children who died on the spot (Photo:SGGP)
Senior lieutenant colonel Thai Thi My Trang, chief of the police station in the province, said that a driver of a crane truck must meet three requirements including he/she must be trained, have certificate of safety training and her/his company has issued document to assign him as crane truck driver.
Through investigation, Nguyen Thai Huynh was just trained to control the crane truck.

Accordingly, the police said that he may be prosecuted as per the present law.

Cao Tuong Van, a 32-year-old mother, was driving her two children Tran Cao Cong Danh, a seven-year-old boy, and Tran Ngoc Thao Vi, a three-year-old girl, on a motorbike to their schools along the Road 842 in An Loc Ward of Hong Ngu Town. At that time, Nguyen Thai Huynh, 29, the driver of the crane truck, was operating the equipment at an unfenced construction site for the Hong Ngu 2 Bridge, when the crane suddenly fell on the three victims.
The three people died on the spot.

After the accident, director of the Department of Transport in Dong Thap suspended the construction which the construction unit is Ho Chi Minh City-based Truong Loc Works Construction JSC undertake. Authority leaders visited the victim family to give them VND13.5 million (US$ 624.4); Truong Loc Company also gave VND50 million (US$ 2,312).