The Investigation Security Agency of the Ministry of Public Security is working together with the Procuracy and court to quickly bring to trial a serious case involving the violation of national security.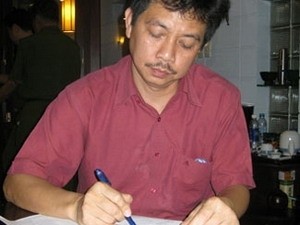 Tran Huynh Duy Thuc (Photo: Vietnam News Agency)
Functional forces have so far arrested, summoned and called in 27 persons, five of whom have been prosecuted and put into temporary detention, including Tran Huynh Duy Thuc, Le Cong Dinh, Le Thang Long, Nguyen Tien Trung and Tran Anh Kim, for their acts against the Vietnamese State.
The General Security Department on May 17, 2009, identified Tran Huynh Duy Thuc, born in 1966, General Director of the One Connection Internet Company (OCI), as the owner of the blog named "Tran Dong Chan" and several other blogs containing anti-State content.
On May 24, the Investigation Security Agency promptly arrested Thuc while he was using the internet to link up with reactionary overseas elements.
Based on Thuc's statement and documents seized, the agency arrested Le Thang Long, General Director of the Innotech Company on June 4, and Le Cong Dinh, Director of the Le Cong Dinh one-member Ltd. Co., on June 13.
The agency then arrested Nguyen Tien Trung and Tran Anh Kim on July 7, and on July 16 arrested and expelled Vo Kevin Huan, who was sent to Vietnam by Nguyen Sy Binh, head of an US-based exile Vietnamese reactionary organization called the "People's Action Party".
Searching Thuc's home, the investigation agency seized 169 writings of 1,189 pages on his e-mail, blog and text-chat.
Thuc confessed his acts against the State through 53 writings, including 14 criticizing the Government's operation and economic policies, 21 distorting the Party's leadership, and 10 others splitting the internal unity between the Party's elite.
The results of the investigation, and Thuc's affidavits and statements, showed that Thuc himself was the instigator of a scheme to set up the "Chan research group" in late 2005 with the aim of subverting the regime. He also provoked distortions of the Government's policies and criticism against the Prime Minister through blogs named "Tran Dong Chan", "Change We Need" and "Psonkhanh".
For his part, Le Cong Dinh admitted that he was introduced by Nguyen Tien Trung to join an exile reactionary organization called the "Vietnam Democratic Party" in early 2008 and took part in its "standing committee" as from May 2009.
Dinh was appointed by Nguyen Sy Binh as General Secretary in June 2009, but his position was not yet made public when he was arrested.
In March 2009, Le Cong Dinh, Nguyen Sy Binh and Tran Huynh Duy Thuc in Phuket, Thailand, agreed upon seizing an opportunity to change the political regime, which they called "time to raise the flag" in 2010-2011.
Dinh wrote, collected and sent through his e-mail 60 documents of 413 pages, including 33 he himself wrote to criticize the regime.
He collected 27 writings that criticized the Party and State's religious and education policies and the judiciary, calling for the replacement of the Constitution.
These writings, sent to Dinh by exile reactionary individuals and organizations, included a book titled "From Dictatorship to Democracy" translated by the exile reactionary group, the "Revolutionary Party for the Reform of Vietnam" or "Viet Tan" for short, analyzing non-violent struggles to subvert political regimes in Asia and Europe.
Moreover, Dinh stored dozens of books written by dissident and political opportunists that protested against and distorted the actions of President Ho Chi Minh.
The police force also seized from Dinh a 112-page "New Constitution".
Dinh obviously knew that Viet Tan was a terrorist organization but he still joined in its activities and made contacts with reactionary individuals such as Vu Thu Hien, Trinh Hoi, Nguyen Quoc Quan, Phuong An and her husband, etc.
Dinh admitted he had 17 times met with foreign partners who pledged their support to him.
It was Dinh who raised the issue related to the Tay Nguyen (Central Highlands) bauxite project, saying it would be a grave for the communist regime. Based on his idea, Thuc wrote "Central Highlands Bauxite: the grave the Communist regime digs to bury itself" on the blog "Change We Need".
In regard to 26-year-old Nguyen Tien Trung, an IT expert, police found in his computer 96 pages of documents related to the "Vietnam Democratic Party" and the "Democratic Youth Foundation."
In 2002, Trung came to study in France, where he met with reactionaries such as Nguyen Gia Kieng – leader of the reactionary organization, the "Pluralist Democracy Foundation" – as well as Bui Tin and Vu Thu Hien. These people recruited Trung and assisted him in establishing the reactionary organization "Democratic Youth Foundation" headed by Trung himself.
The organization has borne the name since May 8, 2006, in France, with the aim of gathering youths and coordinating with hostile forces both in and outside Vietnam to sabotage the State and demand a change in the political regime in Vietnam. This group had convened many meetings to discuss plans to undermine the State of Vietnam.
Trung was then sent to the US by Nguyen Sy Binh and Nguyen Xuan Ngai to meet with hostile forces, including leaders of exile reactionary organizations such as "Viet Tan," the "Len Duong Vietnamese Youth Network," the "Free Vietnam Alliance," and the "Committee to Protect Vietnamese Workers."
In December 2006, Trung joined the "Vietnam Democratic Party" led by Nguyen Sy Binh and Nguyen Xuan Ngai, under the alias Nguyen Trong Nghia.
In early June 2007, he was appointed by Nguyen Sy Binh member of the "Party's" central committee, deputy head of the external relations department and head of the committee for youth affairs.
Early this year, Trung was nominated by Binh as a member of the "Vietnam Democratic Party" standing committee and deputy general secretary of the party, in charge of young people and publicizing their organization and developing forces.
Nguyen Tien Trung compiled and delivered 60 writings which comprise 90 pages to distort the character of the Vietnamese Party and State, excite others to oppose it, and praise reactionary elements.
Tran Anh Kim, 60, had previously served 24 months in prison on charges of "intentionally violating economic management regulations." In 2006, Kim was admitted to the "Vietnam Democratic Party" of Hoang Minh Chinh and appointed a member of the party central committee.
On May 31, 2009, Kim was nominated by Nguyen Sy Binh as deputy general secretary of the "Vietnam Democratic Party." Together with Nguyen Van Ly, Nguyen Xuan Nghia and Do Nam Hai of the executive board of a reactionary called "Group 8406," Kim contacted and recruited vocal agitators to form core forces in an attempt to abolish the leadership role of the Communist Party of Vietnam.
Kim wrote 60 documents to defame the Vietnamese Party and State, distort the country's situation, call for the abolishment of Article 4 of the Constitution, demand a pluralist and multiparty government, and gather anti-State forces.
He also collected and provided fabricated information for overseas organizations and individuals to sabotage the Vietnamese State. Kim admitted that he had granted hundreds of interviews to foreign radios and newspapers such as RFA, BBC and Chan Troi Moi, purposely distorting Vietnam's political situation.
Kim opened two bank accounts and received nearly 60 million VND and 3,000 USD from individuals and organizations both at home and abroad to purchase equipment (mobile phones, computers, etc) to serve his activities and support the efforts of a number of agitators to counter the Party and State of Vietnam.
The 42-year-old Le Thang Long became a member of the "Chan research group" of Tran Huynh Duy Thuc in late 2005. He directly wrote 12 reports to distort the Vietnamese Party and Sate's policies and guidelines, and the government's management, and to call for a change in the country's political regime.
Long colluded with exiled reactionaries to set up the "Vietnam Progressive Democratic Movement," with 10 "clubs" to develop its forces.
Investigations found that these elements, including intellectuals and young businesspeople, acted in an organized way in an attempt to undermine and overthrow the Vietnamese State. They had linkages with exile reactionary organizations and received support from hostile, anti-Vietnamese forces.
This is an extremely serious case related to infringing upon national security. The defendants have admitted their guilt and asked for the law for mercy. The decision by enforcement agencies to launch legal proceedings against these reactionaries has received support from the people and public opinion.