The Ministry of Labor Invalids and Social Affairs (MOLISA) has announced plans to raise minimum wage, but critics say its proposal does not go far enough considering the current cost of living.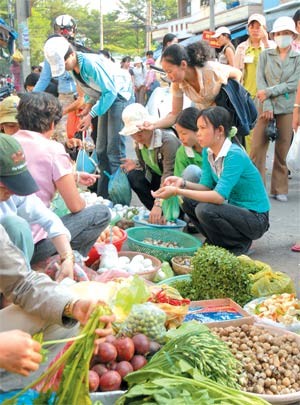 Workers at the Tan Tao Industrial Park in HCMC shop at a nearby market. The Government plans to increase minimum wages in the new year but the hikes may not be quite enough considering the high consumer prices (Photo: SGGP)
The plan, expected to take effect on January 1, 2010, will see the minimum salary increase by 12.3 percent to 17.5 percent in the country's various regions -- from the current VND800,000 a month to VND940,000 at the upper end and VND650,000 to VND730,000 at the lower.
 
At foreign-invested enterprises, it will go up from VND1,2000,000 to VND1,320,000, from VND1,080,000 to VND1,180,000, from VND950,000 to VND1,040,000, and from VND920,000 to VND1,000,000, in the four different regions.
 
Tong Thi Minh, head of the ministry's labor and wage department, said the proposed minimum wages are fixed on the bases of economic growth, prices, and current salaries on the labor market.
 
But officials from trade unions and the Department of Labor, Invalid and Social Affairs said the adjusted salaries would be much lower, even 50 percent lower, than salaries paid by companies.
 
An official from Dong Nai Province's labor department said firms are recruiting unskilled workers at VND2 million a month as against the adjusted minimum salaries for local and foreign firms of VND860,000 and VND1,180,000.
 
Nguyen Van Xe, deputy director of the Ho Chi Minh City labor department, also said minimum salaries paid by companies are much higher.
 
A ministry survey of 1,500 firms this year found 98 percent of them paying their employees higher than or equal to the regulated minimum wages.
 
The regional basis for fixing the minimum wage also came in for criticism. Mr. Xe said: "In the same Vinh Loc Industrial Park, two enterprises may be situated next to each other but pay different minimum salaries because they are [registered] in different regions."
 
Some officials said a major reform of the minimum wage regime is needed or regulations should be amended to allow companies and their employees to negotiate salaries.
 
Nguyen Van Khuong, vice chairman of the Binh Duong Province Labor Federation, said salaries have to ensure that workers can live on them and take care of their family.
 
With the current minimum salaries, workers cannot even feed themselves, leave alone their families, he added.