About one million hectares of rice plants, sown 35 to 40 days ago, have escaped the threat of disease and insect infestation and only a small part of a newly-sown crop of about 400,000 hectares has been damaged by an insect pest known as the brown plant hopper Nilaparvata lugens, Dr. Pham Van Du told a Sai Gon Giai Phong Newspaper reporter yesterday.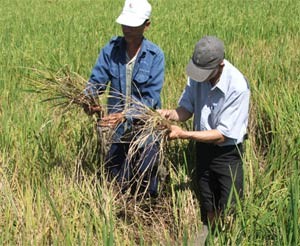 The winter-spring crop escapes the threat of disease and insect infestation
Dr. Du, Deputy Director of the Mekong Delta Rice Research Institute, said farmers should try to sow seeds for the winter-spring crop between January 5 and 10 to avoid the threat of migrating brown plant hoppers at the end of the month.
Meanwhile, authorities in the Mekong Delta provinces of Hau Giang and Vinh Long are helping farmers to destroy rice plants that were infected with two types of disease.
The first, called "vang lun" in Vietnamese, stunts the plant's growth and makes it gradually turn yellow from root to leaf. The other, "lun xoan la", curls the plant's leaves. Both diseases are reportedly caused by attempting to cultivate the plants out of season.