Over the last few weeks, salt penetration has stretched further inland in the Mekong Delta and together with drought conditions poses a grave risk of damage to the rice and shrimp crops.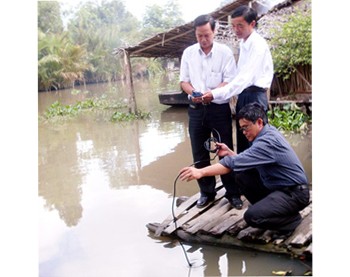 Officials gauging salinity levels in Hau Giang Province (Photo: SGGP)
The sudden off-season rains during last weekend were insufficient for the parched area. Several canals in Soc Trang, Bac Lieu and Ca Mau provinces have been depleted to the extend that people can walk bare feet across them.
The drought has also worsened salt penetration in several provinces including Hau Giang where some rice production areas have been affected.
It is forecast that the cultivable area of rice affected by salt intrusion will increase from 12,000 hectares since last year to 20,000 hectares this year.
Le Phuoc Loi, head of the Hau Giang provincial Department of Irrigation said that the salt intrusion would envelop Long My and Vi Thuy districts and Vi Thanh town with salinity levels of  2-11%. The salinity level able to cause damage to rice, fruit plants and seafood farming is 1.5%.
Authorities in Hau Giang Province have built an over 110 kilometer dyke to cope with drought and salinity.
Minister of Agriculture and Rural Development Cao Duc Phat said his ministry had plans to consolidate dykes, install pumping machines and use fast growing plants to arrest the problem. The ministry is also in the process of completing an irrigation plan blueprint to be submitted to the Prime Minister.
In the meantime, the Mekong Delta Rice Research Institute is preparing rice seedlings which would be much more resistant to salt penetration, drought and flood waters.