The failure of Miss Tran Thi Thuy Dung, Miss Viet Nam 2008, to mention on her application that she did not graduate from high school will not result in any punishment, contest organizers announced at a press conference.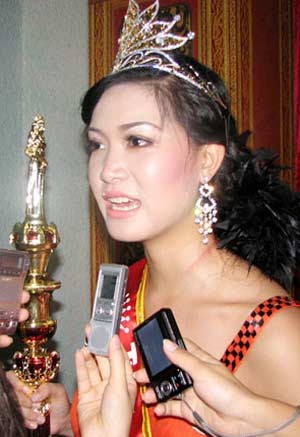 Tran Thi Thuy Dung will retain her title as Miss Viet Nam 2008
The press conference presided over by Mr. Duong Xuan Nam, head clerk of the organizing board for Miss Viet Nam 2008, and Mr. Chu Tien Duc, director of Department of Cultural and Social Affairs under Government Office of Viet Nam.
The press asked whether the current Miss Dung infringed the regulations of the contest.
"After checking and re-verifying profile and application of Dung and compare with the regulations of the Miss Viet Nam 2008 Pageant, we conclude that Dung did not make any fault or infringe the regulations at all," said Mr. Nam. "The pageant only required its contestants to have at least high school education. It did not mention a need to graduate, quite different to the requirements issued by the Ministry of Culture, Sports and Tourism"
Later, the organizing board admitted their regulations went against those made by the Ministry.
"Right after the proposal that contestants only need to have attended high school, and not have to complete their graduation was already finished in April, we supposed it would be approved and issued in June," Mr. Nam explained. "So all we did in the fault is just a step forward."
"We already posted our regulations in the newspaper Tien Phong before the new regulations were issued.  We did not get any negative feedback from any newspaper or officials, so we thought the proposal was approved and applied the change to the previous regulation. That means we did not intentional made any activity against the regulations of the Ministry," Mr. Nam noted.
"If any newspaper or individual tried to stop us at that time, we might not have made this mistake bigger and more serious like now," Mr Nam said.
When being asked about the possibility of a fake in profile of Miss Dung, Mr. Nam answered "When joining this contest, Dung submitted an invitation letter from an international school in United States to prove her education status. During the contest, the organization board did not request that any contestant submit her school report so it would be more difficult to verify them now."
As to whether Miss Dung can join the Miss World 2008, the organizing board did not answer, but only said they needed time to consider it. 
In conclusion, Mr. Nam affirmed that Miss Dung would retain her title as Miss Viet Nam 2008 as she did not do anything wrong in this contest.
Miss Dung recently faced the accusation that she does not deserve the title of Miss Viet Nam as she did not graduate from high school.
Related articles:

Did Miss Viet Nam Pass Her Test?
Thuy Dung crowned Miss Viet Nam