A two-storey cruise ship owned by Din Ky resort in the southern province of Binh Duong, sank in the Saigon River at 7:00 pm on May 20.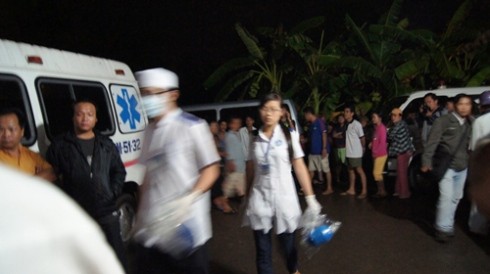 Rescue and emergency aid staff arrive at the scene (Photo: Tuoi Tre)
Ten guests including some children are still reported missing and until now, only twelve persons have been rescued.
By late evening of May 20, a heavy downpour and strong winds lashed at the ship and overturned the vessel. At 10:00pm, the ship had sunk to the bottom of the river and completely disappeared.
Vu Van Hung, a survivor, said 12 guests aboard the ship were attending a birthday party of a 3-year-old child named Quach Hong Dat, son of Quach Luong Tai.  When the incident happened, the rescue team transferred some guests to the shore while the other 20 guests and staff stayed on the boat.
On the same day, at Truong Tho Port in Thu Duc District, 100 containers collapsed and sank into the river.
Many people in the region observed that the containers were placed too close to the rivers edge. Fortunately, the incident occurred at night so there were no casualties. Police are investigating the incident to ascertain the cause.

The sunken containers were filled with wheat and barley and the damage is estimated at about VND10billion (US$500,000).
Many people were sleeping when the incident occurred and only heard a loud noise echoing from the port.