The Vietnam Construction and Import-Export Joint Stock Corporation inaugurated Cua Dat irrigation-hydropower plant in Xuan My Commune, the northern province of Thanh Hoa on November 27.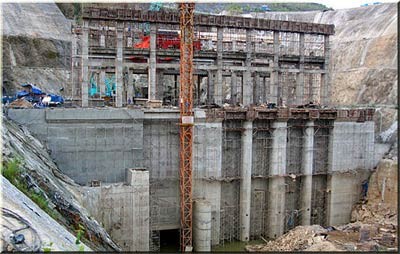 A view of the plant when it was in its construction stage"
Cua Dat, which is one of the country's biggest irrigation and hydropower projects at the moment, is located along the Chu River and costs nearly VND7 trillion.
 
With a capacity of 1.5 billion cubic meters, it will help to reduce floods and provide running water, irrigation water for over 86,000 hectares of farmland, and water for industrial production.
 
The plant will also help to prevent salt water from flowing into the lower course area of the Chu River, and supply power to northern and central provinces with a capacity of 97MW.
 
The project is estimated to produce economic efficiency, with VND407 billion from the irrigation system, VND430 billion from the anti-flood system and VND254 billion from the power generation.