A Cuban and Vietnamese delegation on September 20 visited some historic sites in the central province of Quang Tri on occasion of the 40th anniversary of the visit of former Cuban President Fidel Castro.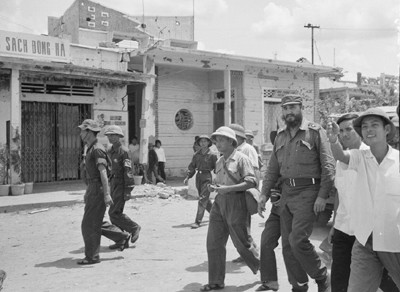 The filed photo shows  former Cuban President Fidel Castro visits Quang Tri Province in 1973
The delegation led by Vietnamese Deputy Prime Minister Nguyen Xuan Phuc and Cuban Minister of Foreign Trade and Investment Rodrigo Manmerca Diaz, who is also co-chairman of the Vietnam-
Cuba Intergovernmental Committee for Economic, Commercial, Scientific and Technological Cooperation, visited Tan Lam 241 Height and Headquarter of Provisional Revolutionary Government of the Republic of South Vietnam, where former Cuban President Fidel Castro visited 40 years ago in September 1973.
On this occasion, Quang Tri Province hosted a meeting to mark the special day. On behalf of the Vietnamese government, Deputy PM Nguyen Xuan Phuc affirmed the valuable solidarity and support of Cuba to the Vietnamese people during the war.
The visit of former Cuban President Fidel Castro during war time was a tremendous gesture of encouragement the Vietnamese soldiers and the people of Vietnam.