Culture should be place in a position equal to other crucial sectors in national economic development,  said Prime Minister Nguyen Xuan Phuc at an online conference to review 2016 activities and outplan tasks for the cultural, sports and tourism sector in 2017 held in Hanoi on January 12.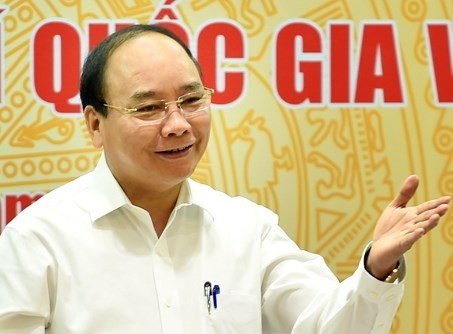 Culture is as important as economic development, said PM Phuc (Photo: VGP)
Leaders should listen to culturists' opinions, appreciate talented people and invest deeply in strategy to have good works. Economic growth should be coupled with cultural development, said the PM.
The role of culture can not be underplayed because the country can not exist and sustainably develop without culture preservation and development, the PM added.
In addition to promoting ethical values, creativeness, social responsibility, citizenship, law-abiding awareness, the sector must eradicate social evils and wrongdoings which badly affect Vietnamese culture.

Last year, the Ministry has established many Party policies and guidelines and State management regulations in culture, sports and tourism, such as the Law on Tourism, and a project to develop tourism into a spearhead sector.
The sector has completed 65 tasks out of 108 ones which the PM and the government set.
In 2016, the Southeast Asian country greeted 10 million international and local visitors, an increase of 26 percent and 9 percent compared to 2015 respectively earning revenues of VND400 trillion (US$18 billion), four years ahead of the 2020 target.

Mr. Phuc lauded the sector's achievement which yielded significant outcomes yet he also pointed out shortcomings in the sector such as deviation from traditional cultural customs, degradation of ethics and lifestyle, vanity, extravagance in weddings, funerals and festivals, poor cultural life of workers in industrial and export processing zones.

The sector must have measures to attract more holiday-makers to Vietnam's tourist destination, to make tourists stay in the country longer and spend more and tourists return Vietnam. The sector is asked to curb nightmares for tourists such as exorbitant price, beggars. Tourism promotion should be coupled with Asia-Pacific Economic Cooperation (APEC) for 2017 which will take place in Vietnam.

The PM requested other ministries and agencies to join hand in facilitating the culture, sports and tourism by tax exemption, investment in cultural artistic field, and promotion cultural activities.