The Department of Industry and Trade in the northern province of Bac Giang suspended operations and sealed the Doi Nen Gas Station in Dinh Tri District, after scores of angry customers protested against the quality of gasoline.
Scores of drivers had surrounded the gas station with their damaged cars and motorbikes on March 24, demanding compensation for damages caused by poor quality gasoline.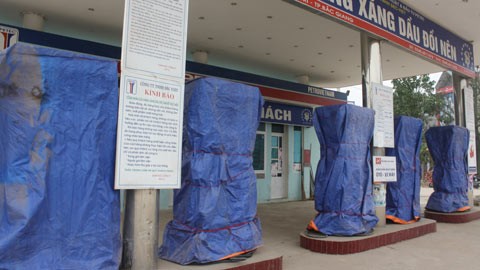 Authorities seal petrol tanks of the Doi Nen Gas Station
To calm down the angry throng of people, the station owner agreed to pay back or change the petrol; however, he disappeared from sight when it came to confrontation. Later authorities sealed the gas station on March 25.
The department has taken samples of gasoline for testing and the gas station will remain closed until investigations are complete.
Gasoline samples have been sent to the Directorate for Standards, Metrology and Quality in the province. Results will come in within 3-4 days.
Meanwhile, the police department in the province has sent a team to maintain law and order and keep the situation in control.
According to some drivers, they had difficulty in starting the engine of their motorbikes after they had filled at the gas station and sometimes there was a strange buzzing sound from the engine while driving.
Some even needed to have their bikes repaired, but no obvious technical fault was visible. The problem only started after the drivers replaced old gasoline with new fuel from the gas station.
The Doi Nen Gas Station has been operating for one year as an agent of Petec Trading and Investment Corporation. However, a representative of Petec said that the gas station had liquidated its contract with them since the end of 2011.