The Ministry of Finance has issued regulations on the form, usage instructions, printing and publishing, and management of immigration declaration forms. Accordingly, it will take a maximum of one minute for each person to complete their immigration procedures.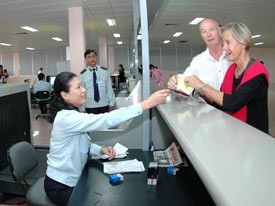 Passengers receive declaration forms at customs office
Immigrants without luggage or goods to be declared at customs do not have to fill in the forms, and customs officers will not check or confirm anything on the forms.
The number of passengers exempt from such procedures makes up 80 percent of passengers in each flight.

Besides, the new form also updates the changes of the amount of foreign and Vietnamese currencies to be declared under the current law.