The main task of tree surgeons from the City's Tree Rescue Team forces them to climb high trees every day. Although working hard and facing danger, they are relaxed and optimistic and recognize themselves as people who 'eat on the ground but talk and work in the heavens.'

The telephone rang in the middle of a meeting. From the other side of the line, a strange voice announced that a tree had fallen across Phan Van Tri Street, Binh Thanh District. After hearing the news, workers of the Tree Rescue Team of the Green Tree Management Plant 1, under the HCMC Park and Green Tree Co., immediately stood up and left the room.

Each worker grabbed his tool and was quickly off to the scene. Since the fallen tree was reported to be a small one, they needed only ropes, an electric saw and a ladder, but if it had been a large tree, they would have resorted to boom-lifts.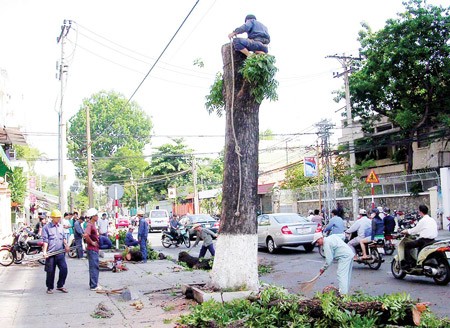 Tree surgeons from Tree Rescue Team lop a tree (Photo: SGGP)
Dinh Thai Liem, an experienced tree surgeon, said, "The job brings us many occupational hazards. Slippery trees, for example, can lead to fatal accidents if you are not vigilant enough while climbing and descending ladders." 
 
He added, "We do our duty come rain or shine, day or night. A fallen tree, if not cleared immediately will cause severe traffic congestion. Aside from dealing with fallen trees, we also make our rounds to find dangerously leaning trees or those with rotten trunks or branches to cope with them in a timely manner."

A week ago, a ten-meter high Crape Myrtle fell down across Nguyen Dinh Chieu, District 3, and snapped many electric cables. It was chaos on the street but the team needed just half an hour to clear the site.

After that they got on the truck and headed to the end of the street to cope with a leaning Hopea odorata. The 20 meter high tree has a one-meter diameter trunk. With such a high tree, no crane or ladder tree can help, so the workers have no other way but to climb up.

Liem pointed out that this is a dangerous job but the workers cannot get necessary training from any school in the city.

He said, "We learn from each other's experience and expertise. Senior workers teach their junior colleagues."

Nguyen Ngoc Phuong is another worker of the team with 31 years' seniority. His colleagues call Phuong "eldest brother" as a sign of respect because he has climbed so many different kinds of trees in his working life. With a helmet on his head and a safety-harness around his belly, the experienced worker swung from branch to branch.

Phuong said, "Grazes, cuts and bleeding are an everyday occurrence to us, but they are not as bad as the attacks from bees and ants. We always keep antihistamines to be used for treating bee stings and insect bites in our pockets."

According to Liem, despite their painstaking job, the workers sometimes have moments that warm the cockles of their hearts.

He said, "After working in heavy rains one night, we were all wet through, cold and hungry and people gave us bread, hot drinks and even clothes to change into. We were deeply moved by their thoughtfulness."

"Most of us view the job as the karma of our lives and we simply accept the danger that comes with it. We usually joke with each other that we are people who eat on the ground but talk and work in the… heavens," added Liem.

At present, HCMC Park and Green Tree has two Green Tree Management Plants. One based in Ly Thuong Kiet Street, District 11, and the other on Nguyen Thong Street, District 3. Both work 24 hours a day. Their contact numbers are 39 351 351 and 39 557 755.