In reference to the recent actions taken by Bach Khoa Internetwork Security Center (BKIS) and the Vietnam Computer Emergency Response Team (VNCERT) in investigating the source of recent cyber-attacks on US and South Korean websites, the Ministry of Information and Communication on July 28 said both sides should review their procedures.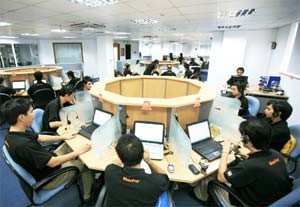 The customer service center of BKIS, which along with VINCERT were told by the Ministry of Information and Communications to be more prudent in dealing with cyber security incidents (Photo: BKIS)
After a debate among the Vietnamese online community, the ministry said it had worked with BKIS and VNCERT to decide if the firm was right to gain control over two command and control servers to investigate the source of the cyber attacks.
That debate also focused on whether BKIS had been officially asked by its South Korean counterpart to take action against cyber-attackers, and on the coordination between BKIS and VNCERT in the incident.
After careful consideration, the ministry concluded that the firm's actions in this international cyber security case were necessary.
The ministry, however, advised BKIS to be more prudent, better communicate and be more careful in releasing information to avoid misunderstandings between related parties.
BKIS was required to continue working with the foreign firms to provide them with clear explanations of its actions and satisfactorily reply to all their related queries.
Meanwhile, the ministry told VNCERT to improve its operations as a national regulator of activities by cyber security agencies in the country, and as the leading agency in cooperation with foreign counterparts in dealing with international cyber incidents. 
VNCERT was also required to be more careful in issuing documents that govern operations of cyber security agencies.
 
Related news:
BKIS director defends company's actions
Vietnam agency defends action against cyber attacks on Korean sites
Vietnam's Bkis: Attacks on US, Korea sites came from UK