Since the beginning of August this year, 15 deaths have already been reported in the country due to a cyclonic storm and torrential rainfall.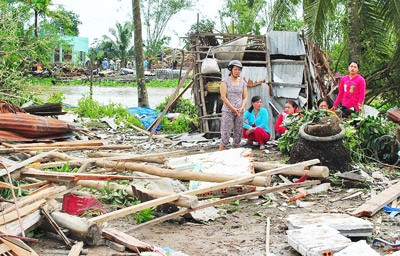 The recent cyclone collapsed several houses and killed nine people in the Mekong Delta this month (Photo: SGGP)
According to the Central Steering Committee for Flood and Storm Prevention and Control, heavy rainfall triggered flash floods and landslides that killed six people; and collapsed, swept away or blew off roofs of 220 houses in the northern mountainous provinces of Cao Bang, Son La, Yen Bai, Bac Kan and Lang Son.
Landslides have caused severe traffic congestion in several spots in these areas.
Affected by a low pressure zone in the Gulf of Tonkin, the northern region has continued to see torrential rainfall, landslides in several areas and rising water levels on the Red, Lo and Thai Binh Rivers.
At present, continuing rains have swollen water levels in many rivers and almost 15km stretch of the sea dyke in Cat Hai District of Hai Phong City is lying vulnerable to landslide. Moreover, 3,000 hectares of rice fields lie under floodwaters in Vinh Bao District.
In Hanoi, several spots on the dykes along the Duong and Hong Rivers are under threat of sinking, placing nearby households at high risk.
Meanwhile, severe southwesterly winds in the southern provinces have killed nine people and injured 113.
In the Mekong Delta, seasonal rising of floodwaters is surging up by 2-5cm a day in Tan Chau District in An Giang Province.
Cao Duc Phat, minister of Agriculture and Rural Development and head of the Central Steering Committee for Flood and Storm Prevention and Control, has issued a directive asking relevant authorities to examine dykes and prepare for any emergency breach of the dyke area.