Communist Youth Union (CYU) in the central province of Ha Tinh yesterday held a ceremony to praise a 16 year old local boy who had saved a teacher during a flash flood last week.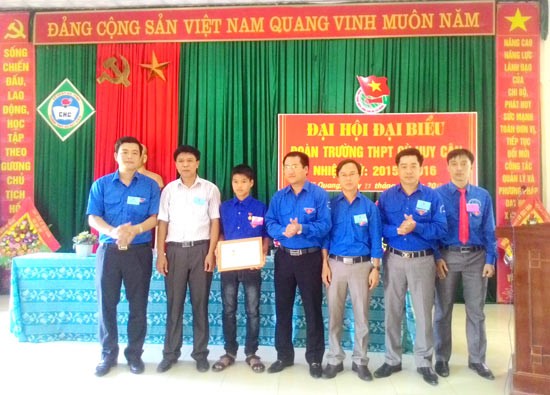 At the medal-granting ceremony (Photo: SGGP)
Nguyen Huu Thang, an 11th-grade student at Cu Huy Can School in Vu Quang District of Ha Tinh Province, was awarded a medal "Tuoi tre dung cam" ( Brave Youth) for his courageous acts to save a teacher who was swept away in the flood.

Before, on September 19, Thang was on his way to school when he heard somebody screaming from a flooded stream nearby. He soon threw his school bag to jump in the flooded stream.
After struggling with the strong flows, he finally saved Tran Thi Manh, a teacher at his school.

Manh said she and her husband, teacher Nguyen Tran Huu were rowing a boat to school when the boat was suddenly flipped. Her husband managed to hold on to it, but she was swept away.

Before the Department of Education and Training in Ha Tinh and District People's Committee honored and gave him a certificate of merit.