Czech Prime Minister Mirek Topolanek will pay an official visit to Viet Nam from March 20-23 at the invitation of Prime Minister Nguyen Tan Dung to further boost economic and cooperation ties, according to the Vietnam News Agency.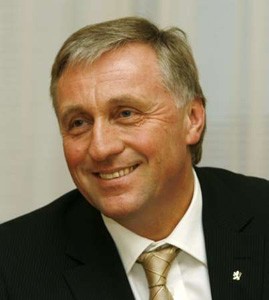 Czech Prime Minister Mirek Topolanek
The Czech government considers Viet Nam one of the countries to get its top priority in stepping up bilateral economic, trade and investment cooperation.
During the Czech Republic visit by Vietnamese PM Nguyen Tan Dung last September, seven economic agreements valued at 3.5 billion USD were signed.
The Czech Republic has invested US$50 million in 13 projects, ranking 40th among the foreign investors in Viet Nam.
The country is expected to boost its exports to Viet Nam with a hope of reducing trade deficit. Last year, two-way trade between the two nations was about US$150 million, with two thirds from Viet Nam's exports of farm produce, seafood, garments, handicraft articles and computer components.
Viet Nam imports from the Czech Republic machinery, glassware, plastics, milk, dairy products, and a couple of other commodities.