Prime Minister of the Czech Republic Mirek Topolanek will arrive at Noi Bai International Airport today, beginning an official visit to Viet Nam at the invitation of his Vietnamese counterpart Nguyen Tan Dung.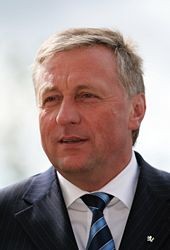 Prime Minister Mirek Topolanek of the Czech Republic
This is the second visit to the Southeast Asian nation by the government leader of the Czech Republic since it was split from the Czechoslovakia in 1993.

During the visit, Viet Nam and the Czech Republic plan to sign an amended protocol on investment protection and encouragement and agreements on a joint venture bank, establishment of a Viet Nam trade centre in the Czech Republic and development of a bus system in Ho Chi Minh City .

As about 40 entrepreneurs will accompany the PM to Viet Nam , a number of agreements are also expected to be signed during a business forum slated for March 21.

During PM Khai's visit to the Eastern European country in September 2007, businesses of the two countries signed seven contracts, worth US$3.5 billion; of which, the biggest, valued at US$3 billion, is to build a thermo-electric power plant in Viet Nam .

Two-way trade between Viet Nam and the Czech Republic hit US$200 million in 2007, an increase of 21 percent from the previous year.

Viet Nam exports mainly farm produce, foods, garments, machineries, equipment, glass and medicines to the Czech Republic .

The European country has so far poured US$35 million into glass, crystal, beer, electric equipment and construction materials projects in Viet Nam . It has provided Viet Nam with a total official development assistance of US$18 million.