The Czech Republic wants to strengthen economic ties with Viet Nam, Speaker of the Czech House of Representatives Lubomir Zaoralek said when meeting with Viet Nam's National Assembly Chairman Nguyen Van An.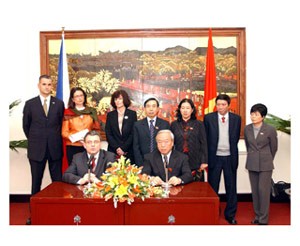 Mr.Nguyen Van An and Mr.Lubomir Zaoralek (front, R and L) at their press meeting in Ha Noi on February 27, 2006

The Czech visitor said in Ha Noi on February 27 that his country wants to cooperate in power development by building thermo electricity plants, as well as in transport and cement projects.
Mr. Zaoralek told NA Chairman An that the Czech Republic also wants cooperation in culture and education. Mr. An suggested that the European country should import more farm produce, food and garments from Viet Nam. Mr. Zaoralek expressed his hope to see Viet Nam buy more equipment, glass items and medicine from his country.

The two leaders said they are eager to see a direct air service between Prague and Ha Noi, as well as a trade center of each nation operating in the other's capital.
Like the Czech visitor, Mr. An said Viet Nam also wanted to intensify trade and investment relations with the European country.
The Czech delegation in Viet Nam includes representatives of more than 10 Czech leading companies.
During his talks with Vietnamese President Tran Duc Luong, Mr. Zaoralek said his country considered Viet Nam a prioritized partner in Southeast Asia. Mr. Luong said he encourages cooperation between the two countries' legislative bodies to help strengthen the nations' ties.
Mr. Luong expressed his thanks to the fact that the Czech Republic has facilitated Vietnamese living in the country. Mr. Zaoralek said his country would keep doing this for more than 40,000 Vietnamese living in his country, as they are an important bridge for the two countries to continue developing their multifaceted relatives.
The two countries' bilateral trade exceeded US$100 million last year.