Flower cultivation in the Central Highland province of Lam Dong will see a growth spurt as flower growers will be offered preferential loans.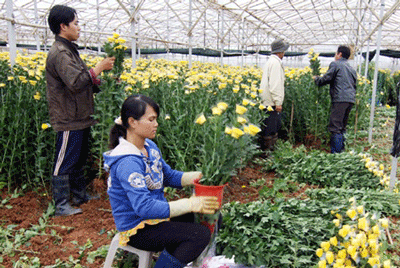 Farmers grow flower in the Thai Phien Flower Village in the Central Highlands Province of Lam Dong's Da Lat City. Flower cultivation in the province will see a growth spurt (Photo:VNA)
Flower growing enterprises and households will soon be prioritised for preferential loans to help them implement technological innovations and develop businesses.
The provincial People's Committee is collaborating with banks to launch a preferential package worth VND4 trillion (US$190.5 million) for flower growers in the region to promote the application of advanced technologies, said Pham S, vice chairman of the committee.
He said that the province plans to provide a boost to flower growing, with a special focus on selling flowers in pots instead of selling stems and flowering branches.
This is due to the fact that the demand for potted flowering plants is on the rise in both domestic and foreign markets.
At present, the province has 7,100ha of flower farms, mostly in Da Lat City and the districts of Duc Trong, Lac Duong and Don Duong.
Last year, the region produced about 2.1 billion flowering branches, of which 220 million were exported. The major flower importing markets include Japan, Australia, Taiwan, Singapore, Thailand and Malaysia.
Each hectare of flowering fields in the province helped generate VND122.2 million ($5,800) last year, which is 2.5 times higher than average revenues of the entire country.
Further statistics show that there are flower fields of 38,000ha that generate revenues of VND100 million – 250 million ($4,700 -$12,000) per hectare per year, about 15,250ha with a revenue of VND250 million – 500 million ($12,000 -$24,000) and over 10,000ha with a revenue of VND500 million – VND1 billion ($48,000).
Vice chairman Pham S said that growing high quality flowers has been the strength of the province for decades due to many reasons, such as its ideal climate, the expansion of flower growing areas and the improved cultivating and processing technologies.
However, there are a few challenges that still need to be dealt with, such as the lack of market information, technology and the limited capacity of local enterprises.
It is for these reasons that financial assistance was a basic need, he added. This would help flower growers promote scientific and technological applications in the business. A similar model when applied to coffee production proved effective.
The province was also urged to improve linkage with neighbouring localities, in terms of human resource training, technology transfer and market expansion, because the coastal southern central region and Mekong Delta region, including HCM City, are major markets and transportation hubs.
Agriculture expert Duong Ngoc Thi from the Institute of Policy and Strategy for Agriculture and Rural Development said that flowers growers needed aid to be able to access preferential loans for hi-tech farming.
He suggested that the province outline a long-term strategy for flower and vegetable cultivation, which would provide growers the ability to forecast market demand and human resources and to use planning and facilities for processing, production and trade.