Known as the "City of Pine", the Central Highland's community of Da Lat is home to thousands of hectares of old-growth trees. Experts say the forests are in jeopardy, however, as few new seedlings are being planted while greater numbers of old trees are being felled.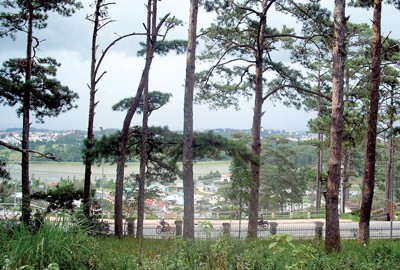 Da Lat pine forest is older and older.
Da Lat has 26,182 hectares of natural pine forests which provide vast ecological and economic benefits. Around, 5,000 hectares of trees are used for logging while more than 20,000 hectares are protected. Around 360 hectares of the protected trees are situated within the city.
Scientists and forestry experts, however, say there has been a sharp decrease in the number of new seedlings growing in the forests, especially in city areas. In addition, many century-old pine trees pose a danger of falling down, especially in the rainy season.
During the recent Storm Ketsana, 49 large trees were knocked down in the city causing havoc for residents.
Experts forecast that a mass of century-old pine trees in Da Lat will fall naturally during the next 10-15 years, while few will be replaced.
Da Lat City authorities plan to cut down many of the old trees for safety reasons and replace them with new pine trees aimed at sustainable development.
Currently, there are around 10,000 century-old pine trees in Da Lat, of which the city plans to cut around 300 trees each year.
The Lam Dong Province Board of Forest Management has supported the idea, saying the province needs to improve its pine forests.
Tran Thanh Binh, head of Lam Dong Forest Management, said it was necessary to have a systematic plan to keep the forests healthy, including planting good seedlings.
Da Lat will implement the program in key areas of the city including historic relics Dinh 1, Dinh 2 (palaces of former French Indochina Governor Decoux and the last Vietnamese King Bao Dai), Cu Hill and other tourism areas, Binh added.