The central city of Da Nang should pay special attention to building a line-up of Party members at all levels with high professionalism, good virtues and strong political character to meet the locality's development needs, said President Truong Tan Sang.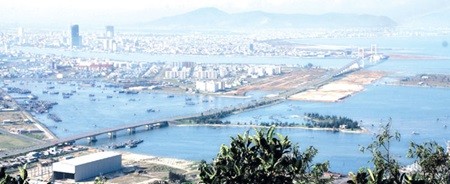 A view of the Man Quang Bay in the central city of Da Nang. President Truong Tan Sang said that the city should pay special attention to building a line-up of Party members on all levels with good virtues and strong political character. (Photo: VNA/VNS)
The President made the remark in his speech at the opening ceremony of the city's 21st Party Congress for the 2015-2020 tenure yesterday, during which he asked the city to focus on developing Party organisations and Party members in private enterprises to be in accordance with the context of increasing national integration.
He spoke highly of recent achievements made by the municipal Party organisation and people, stressing that as an economic centre in the central and Central Highlands region, Da Nang should take the lead in economic development, industrialisation, modernisation and international integration, thus promoting regional development.
The political report from the municipal 20th Party Committee highlighted the locality's efforts to reap remarkable achievements over the last five years, citing political stability, promoting socio-economic development, reinforcing security and defence maintenance and increasing attention to Party building and political system development.
The local gross domestic product increased an average of 9.7 per cent during the last five years and is estimated to hit nearly VND45.9 trillion (more than US$2 billion) in 2015, up 60 percent from 2010. Its gross regional domestic product per capita in 2015 is estimated to reach VND56.8 million ($2,500), nearly twice as much as five years earlier.
The city saw remarkable culture-society development after a series of social policies were implemented effectively, contributing to improving local living conditions. High-quality human resources development was also intensified.
Efforts to ensure security, defence, social order and safety; combat crime; prevent corruption; and fuel judicial reform and Party building reaped positive results.
However, the report also pointed to shortcomings Da Nang should focus on resolving, noting that the locality's socio-economic development has yet to match its potential and strengths, infrastructure facilities have not been synchronised, the quality of education and training has been uneven and living standard improvements have been slow.
Congress participants discussed and put forth a target to build a strong Party committee and develop the city into a large socio-economic centre of the country and a development catalyst to the central and Central Highlands region, making it a modernisation-oriented industrial city by 2020. The congress will wrap up tomorrow.