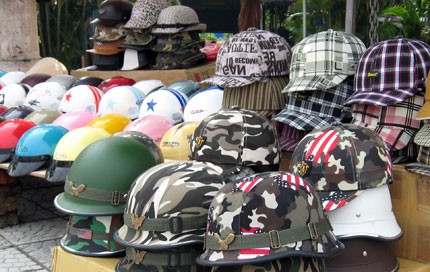 Poor quality helmets displayed in streets
The People's Committee of Da Nang City will establish a station to check the quality of a person's motorcycle helmet, as part of its efforts to improve on traffic safety.
Relevant agencies in the central city of Da Nang will set up a station in front of the Exhibition Fair Centre to test the quality of helmets of drivers. In addition, they will also impose fines on people violating road safety regulations.
The Traffic Steering Committee will coordinate with the Department of Science and Technology and the Da Nang Polytechnic University to check drivers' helmets.
Relevant agencies will then help in exchanging poor quality helmets with better quality ones. This is important as wearing of poor quality helmets has been a major cause of deaths from traffic accidents.
Da Nang authorities have approved of a VND8 billion (US$384,000) loan from its City Development Fund for the Chi Thanh Plastic Company for manufacturing of good quality helmets.