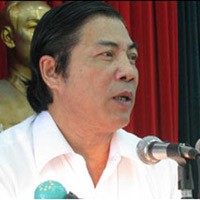 Nguyen Ba Thanh
Nguyen Ba Thanh, Party Secretary of Da Nang City, said at a meeting of the Department of Labor, Invalids and Social Affairs on January 14 that it must be a top priority to look after the very poor, impoverished and the disadvantaged.
Mr. Thanh, who was appointed head of Central Internal Affairs Commission recently, advised social security programs for the poor and disadvantaged people as top priority.
He was against cutting financial support for such people and warned of wrongdoings, promising harsh penalties for those who faulted.
He also focused on vocational training for farmers who had reclaimed land, though he advised leaders to concentrate on practical jobs that enterprises and society really needs.
He wanted more focus on new drug addicts who had just fallen into addition. District leaders should find jobs for such addicts who have recently left rehabilitation centers, or else they would easily back track.
He approved the department's proposal to raise house repair support to VND30million (US$1,439) as well as allocate land for the homeless.