A document, photo exhibition entitled "Paracel Island- Vietnam's sovereignty" was opened in Da Nang University on January 9 on occasion of marking the 64th anniversary of Vietnam Students' Day.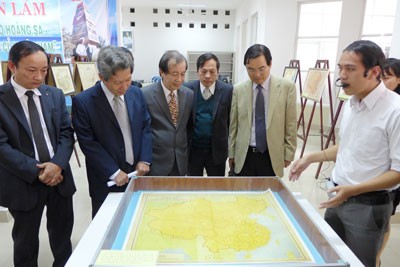 Exhibition with theme 'Paracel Island- Vietnam's sovereignty' (Photo:SGGP)
The exhibition displayed 50 maps, photos, documents and artifacts on Paracel Island. 12 maps and documents were showcased firstly in this exhibition with the aim to affirm that Paracel Island belonged to Vietnam's sovereignty.
Speaking at the opening ceremony, Mr. Phung Tan Viet, Vice Chairman of the People's Committee of Da Nang City, said that East Sea's sovereignty is so complicated problem, therefore protection of Islands Sea's sovereignty of the country requires participation of the political system, society and people. Especialy, young generation including youth, students is most important force.
"young generation must constantly improve their knowledge as well as skills in order to contribute to maintaining independence, sovereignty of Vietnam", added Vice Chairman.
"This exhibition is not only to supply knowledge of Sea Island's sovereignty for students, but also help them to raise awareness, responsibility and solidarity", said Dr. Phan Van Hoa, Rector of Da Nang University.
"We hope that this event will continue to be organized at three universities in Da Nang city, including University of Foreign Languages, University of East Asian, and Polytechnic University", Dr Hoa added.
The exhibition is organized by Department of Foreign Affairs in Da Nang in collaboration with the People's Committee of Paracel Island, Da Nang Museum and Da Nang University.