A US$218.46 million project to upgrade Da Nang City's urban and environment infrastructure was signed in Ha Noi Thursday between the State Bank and the World Bank in Viet Nam.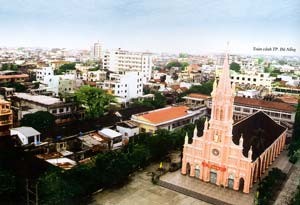 A view of Da Nang City
"This project will help improve even further the quality of life in a city with a very strong track record in terms of urban development," Mr. Martin Rama, the World Bank's acting country director for Viet Nam, said in a statement.
"It also shows our solid working relationship with Da Nang, one of the fastest growing cities in Viet Nam, in the middle of the country's central economic triangle," he added.
The Da Nang Priority Infrastructure Investment Project aims to improve the efficiency and sustainability of urban services in the central coastal city through a package of priority investments.
They include urban area upgrading, environmental infrastructure improvement and strategic road access construction in selected areas. The project is also expected to strengthen institutional capacity in investment planning and in the management of urban services.
It will help upgrade the low income urban areas, which is considered the most vulnerable part of the city. The project will help Da Nang to become a greener, cleaner, and more environment friendly coastal city.
The project consists of two phases. Phase 1 will be implemented from 2008 to 2010, while phase 2 will start in 2009 to 2013. The total cost for this project is US$218.46 million, of which the World Bank will provide US$152.44 million.