In an hour long open conversation with spoiled teenagers and those with criminal records, Nguyen Ba Thanh, Da Nang Party Secretary, told them that they should conduct their lives in such a way that they are not ashamed to speak of their wrongdoings in youth to their children and grandchildren.
Thanh began the conversation by telling them of their parents' expectations and the stress felt by them when they hear of their child's wrongdoings. Hence, they are not only throwing away their lives but also breaking their parents' hearts.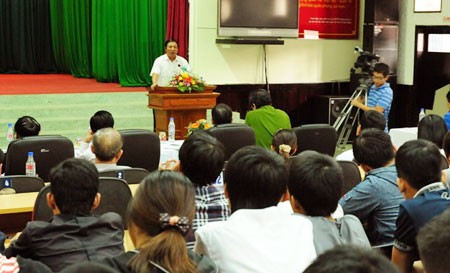 Nguyen Ba Thanh, Da Nang Party Secretary, talking to spoiled teenagers on the effects and repercussions of their wrongdoings
When such teenagers grow up and become adults, and when they get married and have children, they are shunned by people because of their parents' bad reputation.
He continued that many of today's teenagers are forced to study but have no interest in learning; as a result, they drop school to play online games and cards as well as take up drinking, and join the bad company of criminal gangs.
They need money to play cards but parents don't give them that money and so they steal, rob people and even kill if caught red-handed. The road to prison after dropping out of school is very short, said Thanh.
Giving examples, Thanh said that poor workers find it very hard to buy a bike for their child and so when their child's bike is stolen, their pain is immense and the teenager who steals the bike must blame himself for that pain.
Thanh said that every one of us makes mistakes but the most important thing is to learn from that mistake and improve. Teenagers should listen to seniors' advice and become useful and responsible persons who will receive respect and admiration from others in society.
When Thanh finished his talk, many teenagers felt remorse and expressed their desire to return to school or work at a job for a better future.
Duong Van Huy from Tan Chinh Ward in Hai Chau District wished to take up his studies again as he had quit school in the sixth grade. Thanh has asked related agencies to help him return to school.
For Nguyen Tan Hoang with a criminal record, whose father is mentally ill and whose mother is paralyzed, Thanh agreed to provide an apartment, as the family is presently living in rented premises, provided that Hoang works at a job and never commits a crime again. However if he returns to crime he will be severely punished.
Thanh ordered police, veterans' associations, and the Communist Youth Union to regularly keep an eye on these teenagers and provide timely assistance to them. Senior people should help convert them by righteousness and generosity.
According to the Da Nang Youth Communist League, 189 spoiled teenagers have made progress in their behavior after the first talk by Party Secretary Thanh in September 2010 which was attended by 287 teenagers. This time, 176 teenage brats listened to his speech and each was given a gift worth VND300,000.