The across-the-board hikes in dairy prices following a 15 percent increase in import tariff on fresh milk has come in since the beginning of the month for widespread criticism.
The deputy director of HancoFood JSC, Pham Ngoc Chau, said dairy importers made a killing by raising prices because tariffs on other dairy products, including milk powder, have remained unchanged while at the same time international prices are down by 30 percent.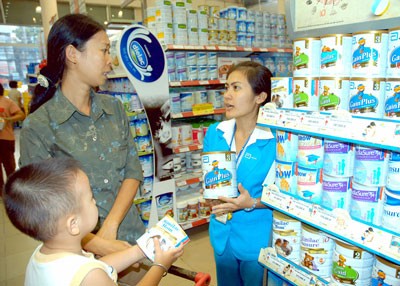 The dairy section in a HCMC supermarket. A recent price hike in imported milk products has come in for severe criticism. (Photo; SGGP)
His company buys dairy products from New Zealand as do the importers but its prices are just half of theirs, he said. Importers are making a 150 percent profit, he said, calling it unreasonable on their part to increase prices.
They are able to spend more on advertising and commissions to consolidate their position and catch the consumer's eye, he said.
Mr. Chau said his company would not raise prices until May.
Tran Van Truong, general director of fertilizer maker Ham Rong Corporation called on market management agencies to monitor the prices of imported milk products because they seem to be higher in Vietnam than in Singapore, Thailand, or Malaysia.
For instance, a 400-gram tin of Glucerna costs 25 ringgits or VND 110,000 in Malaysia while it is VND200,000-250,000 at the Ton That Dam market in District 1, Ho Chi Minh City, he said.
He said importers like Abbott and Mead Johnson earn huge profits in Vietnam by selling at high prices and the Government should crack down on gouging by importers.
Mr. Ngo Van Hai, director of supermarket chain CitiMart, said it is unreasonable for importers to offer reasons like exchange rate fluctuations and higher tariffs because the Government is subsidizing loan interest by 4 percent under its economic stimulus package.
Customer would soon turn their back on foreign milk products and use domestic products instead, he warned.
Related article:
Dairy importers make hay