Many coffee-growing areas in the central province of Dak Lak are facing a lack of water, provincial irrigation officials warned.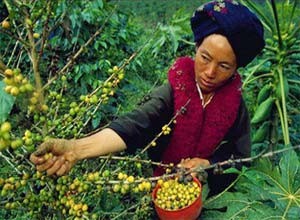 A farmer harvests coffee  in Dak Lak last year
By mid-February, more than 170,000 hectares had been watered just once against a requirement of at least four times. Coffee trees in the province, especially in Cu Mgar, Krong Buk and Ea H'leo Districts, are showing signs of withering.
The water level in rivers, ponds, and streams are lower than last year, as is the groundwater level, officials said.
To make things worse, the dry season this year is expected to last longer than last year.
Authorities have urged farmers to be thrifty with water and irrigate their crops at reasonable intervals.
Droughts in past years have reduced coffee yield by 20-30 percent.