Dak Lak Province in the central highlands decided on May 4 to withdraw 18 afforestation projects, of which nine are in Ea Sup District.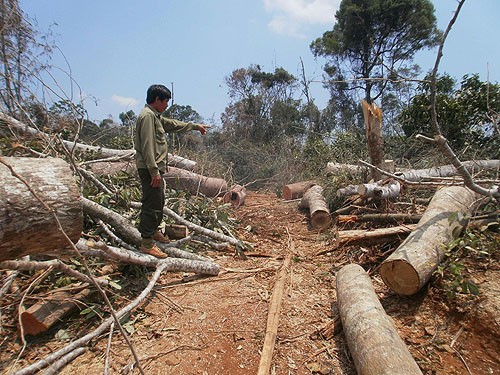 Thousands hectares of forests in Dak Lak Province have been devastated (Photo: Dantri)
In Ea Sup District, 14 enterprises were registered to plant 8,337 hectares of forest cover, but so far no work has been implemented. These enterprises have proved their lack of ability and responsibility in executing the task.

To date, 2,000 hectares of forests allocated to nine enterprises in Ea Sup District have been devastated.

Provincial authorities have thus withdrawn 18 afforestation projects from under the relegated enterprises after it became evident that they were not able to properly implement the projects.

Dak Lak Province leased forest land to enterprises to grow rubber trees, manage and protect the forests. However, while the rubber projects still cannot bring profits, the green forests have been seriously devastated.
Authorities have also stopped authorising new afforestation projects and are currently checking on the ongoing projects only.