The Central Highlands province of Dak Nong has implemented a resolution on hi-tech applied agricultural development and obtained a number of achievements but there are still a lot of limitations. Thus the province has offered many incentives to further attract investment in this field.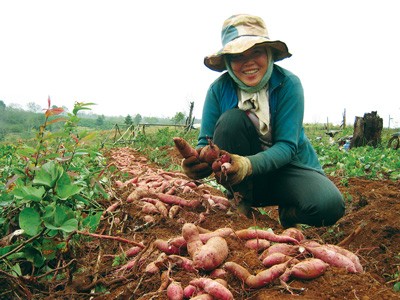 Hi-tech applied sweet potato farming brings billion dong incomes for farmers in Tuy Duc district, Dak Nong province (Photo: SGGP)
According to the provincial People's Committee Chairman Le Dien, the resolution has been implemented for three years and created some breakthroughs.
Businesses and residents have carried out new production models to develop main plants such as coffee and rice bringing higher effectiveness.
A coffee sustainable development program covering 22,000 hectares has helped increase coffee bean productivity from 1.93 tons per hectare in 2011 to 2.3 tons two years later. Coffee output escalated from 179,000 tons to 210,000 tons.
Over 70 percent of wet rice areas have been cultivated with high quality and hybrid varieties to replace low-yield types. Therefore rice output moved up to 68,000 tons in 2013 from 61,000 tons in 2011.
Hi-tech breeding modals have been applied to improve the quality of beef cattle and create high quality cross-bred cow herbs, contributing to increase breeders' income.
The ratio of cross-bred cow herbs has gone up from 3 percent in 2004 to 25 percent now to reach 3,800 ones. The herb is expected to exceed 5,000 cows this year.
The province has also implemented a sturgeon farming modal. Two households have launched a pilot fish cage farming project in Dak R'tih reservoir with 23,500 breeding sturgeons. Besides, 140 households have practiced the modal in Dong Nai 3 and 4 hydropower reservoirs.
However, hi-tech applied agriculture still shows many limitations. A number of officials and residents are vague about hi-tech agriculture. They have hesitated and been unconfident in carrying out new production modals. Hi-tech agriculture approach and application are scattered, spontaneous and small-scale.
Farmers have met with difficulties in seeking consumption markets. Private firms have been afraid of funding farmers to apply high technologies in production. 
Human resource for building and transferring new production modals is limited with the attendance of only some agricultural officials and farmer associations.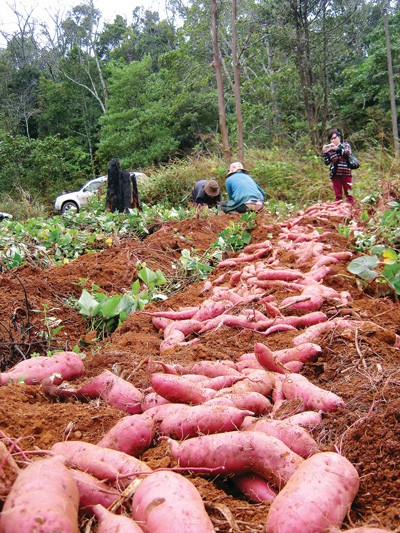 Japanese sweet potatoes highly profit Dak Nong farmers (Photo: SGGP)
Investment incentives
The province has called for 17 organizations and individuals to do surveys to invest in hi-tech projects. Local authoritative will exempt, reduce or keep rent unchanged in five years for those capable to execute the projects.
In addition, investors can get loans from the Government's investment and export credit funds and the province's investment and development fund. Maximum loan will not exceed 50 percent value of a project or VND1 billion (US$47,000).
The investors will also be supported to develop their markets and assisted with 50 percent of costs to build up their brand names and register quality standards for their products.
Dak Nong is a newly established and poor province in the Central Highlands. Local agricultural development has been scattered and small-scale, making the province unable to promote natural advantages.
As a result, Dak Nong has paid heed to hi-tech agricultural development to increase farmers' income value and the economic efficiency of a farming area or a product, considering it to be an inevitable direction to develop the province's agricultural industry.