The Ia Krel 2 Hydropower Plant Dam burst early morning of June 12 to sweep two people from Ia Dom Commune of Duc Co District in the central highland province of Gia Lai.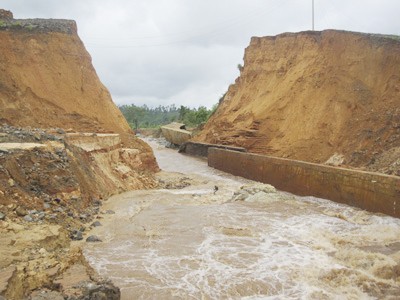 The site of the dam breach in Duc Co District in Gia Lai Province (Photo: SGGP)
Vo Thanh Hung, chairman of the People's Committee in Duc Co District, said that rescue workers saved ten people who were swept away from the swift current of floodwater and evacuated more than 20 households from flooded areas to safe locations.
Rescue teams are now continuing to move tens of households from the inundated areas. District authorities have turned to Rattanakiri Province in Cambodia to help in rescue operations because of its close proximity to the dam.
According to a Saigon Giai Phong Newspaper reporter, thousands of cubic meters of soil and stone debris has fallen down. A 50m long stretch of the dam has been washed away, leaving visible cracks and depression in the remaining part of the dam, which is also likely to collapse.
Siu Sum, chairman of the People's Committee in Ia Dom Commune, said that loss of human lives cannot be determined yet but low-quality construction is being attributed as cause of breach.
Previously, local residents had continuously notified to local authorities of such a possible threat, but nothing had been done to prevent it from occurring.
At a meeting on the same day afternoon, leaders of Duc Co District said that there must have been some serious deficiencies in construction of the dam.
Pham The Dung, chairman of the People's Committee in Gia Lai Province, has instructed police and authorized organs to investigate the cause of the dam breach.
Investors of the Ia Krel 2 Hydropower Plant, Bao Long-Gia Lai Industry and Hydropower Company, have not yet come to the site.
Ia Krel 2 Hydropower Plant is designed to a capacity of 5.5MW at a total cost of VND120 billion (US$5.7 million). Construction began in 2010 and trial operations began in May this year with the reservoir accumulating water.
When the incident occurred, the plant reservoir had already accumulated five million cubic meters of water which is half its maximum capacity. The dam breach unleashed this volume of water downstream and created flash floods along a 10km stretch from Doi Spring to Se San River.
Floodwaters have damaged more than 200 hectares of rubber plants and vegetables in Duc Co District. Total damage is estimated to reach hundreds of billions of dong.