Local authorities in the central province of Quang Nam continue to worry for the safety of the Song Tranh 2 Hydropower Plant dam, as water from cracks in the dam is still leaking at the rate of 75 litres per second.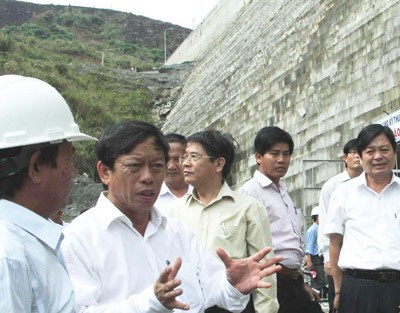 Le Phuoc Thanh (2nd, L), chairman of Quang Nam Province inspects Song Tranh 2 Hydropower Plant on April 18 (Photo: SGGP)
On Wednesday, a delegation of provincial officials went to Bac Tra My District to inspect and meet with the plant investor, and find solutions to remedy the leak, occurring at the main dam of the plant's reservoir.
Several officials expressed concern over the high volume of water that was still leaking, and feared threat to the dam.
Tran Van Hai, head of the plant's management board was at a loss of words and unable to explain when the leak would be controlled.
Le Phuoc Thanh, chairman of the provincial People's Committee said that if the investor and relevant sides fail to repair the leaks before the onset of the storm season this year, the province will propose to the Government to halt water flow into the plant dam, keeping in mind residents' lives and properties.
Related articles:
Leaks in control at Song Tranh Hydropower Plant
Cracks on hydropower reservoir not a matter of concern: Gov't
Water leaks from dam worry officials in Quang Nam Province