Inspectors from relevant departments in the central highland province of Kon Tum have found that the dam of the Dak Mek 3 Hydropower Plant was not made of concrete but with mud, sand and rubble.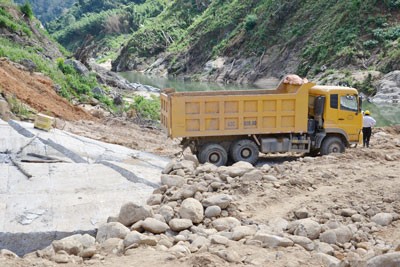 The investor of the Dak Mek 3 Hydropower Plant attributes the dam breach to collision with this yellow truck (Photo: SGGP)
This fact was announced at a meeting hosted by the provincial People's Committee on November 29 to discuss the dam breach at the Dak Mek 3 Hydropower Plant in Dak Choong Commune of Dak Glei District.
The inspectors uncovered this glaring fact when they surveyed the scene on November 27. They also saw that in reality 100m stretch of the 165m long dam has been breached while the plant only reported a breach along 60m of the dam.
The People's Committee of Kon Tum Province said that they have suspended any further construction at the Dak Mek 3 Hydropower Plant site and have asked the investor to submit all documents relating to survey, design, execution and supervision operations of the plant to the Department of Construction by December 1.
Hong Phat-Dak Mek Hydropower Company, investor of the plant, has also been asked to put measures in place to repair damages caused by the dam breach. For instance, the debris from the breached area must be cleared and allow for the current flow of the Dak Mi River.
The People's Committee has also tasked the Department of Construction to choose an experienced and qualified consultancy firm to survey and determine the cause of the dam breach and name the individuals responsible.
 
Bui Van Cu, deputy director of the Department of Industry and Trade, said that earlier the People's Committee had permitted the Hong Phat-Dak Mek Company to invest in three hydropower plants-- Dak Mek 1, Dak Mek 2 and Dak Mek 3 on the Dak Mi River.
However after the survey and findings that construction of these plants had destroyed several rice areas, the People's Committee revoked licenses of Dak Mek 1 and 2 Plants.
Saigon Giai Phong found that relevant parties had tried to cover up the dam breach in Kon Tum Province. Answering related questions, Dang Thanh Long, office chief of the provincial People's Committee, said that they will determine individuals responsible.
The People's Committee said that the dam breach occurred on November 22 but they only learnt of this incident on November 26. For now, all hydropower plants in the province will be examined within the next few days and those proving to be a threat will have their licenses revoked or construction suspended.

Related articles:
Kon Tum Province to verify quality of hydropower dam
Kon Tum Province investigates breach at hydropower dam