Two US naval vessels November 7 arrived at Tien Sa Port to begin their official visit of the central city of Da Nang.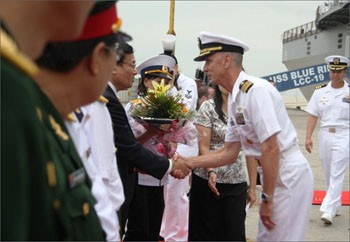 Danang officials welcome the captain of the USS Blue Ridge November 7 (Photo: VOV)
During the four-day visit, crews of the USS Lassen and the flagship USS Blue Ridge will play sport with students from the University of Da Nang and call on historical and cultural places in the city.
Attending a welcoming ceremony for the crews were representatives from Danang's local authority, the Ministry of National Defense and Vietnam naval force.
The commander of USS Blue Ridge, Captain Thom Burke, said that it was a chance to strengthen the relationship between the two countries' navies.
On the behalf of the two crews, he expressed happiness to visit the beautiful city and also sent condolences to people in the central region, which had recently suffered much damage due to Typhoon Mirinae.
The USS Lassen is the first US naval vessel captained by a Vietnamese American, Commander Le Ba Hung.