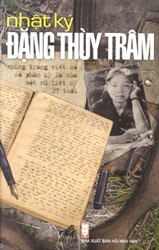 Dang Thuy Tram Diary.
This is the remark by AP in an article published on April 3, 2006 about the martyr-doctor Dang Thuy Tram whose diaries is well- known in the US.
The author quoted the former US military intelligence officer Frederick Whitehurst, who found out the diaries at the field hospital in Duc Pho, Quang Ngai Province in 1970, as saying that he appreciated Dang Thuy Tram as "more than a war hero" and that people read her diary like they read Anne Frank's.
The article says that by day, she struggles with wounded soldiers' pains, by night she bares her heart onto papers, writing thoughts on suffering, love and her hatred of enemy.
Evaluating Tram's Dairy, the author says that the diaries, written from the exact thought of a surgeon, can be considered as a Vietnamese novel describing the Viet Nam War most truly and persuasively.
For Americans, the appearance of Frederick Whitehurst and his brother on radiobroadcasts and television channels to talk about the dairy helps heal partly the pain of American veterans.
According to a US agent research, Dang Thuy Tram was a skilled doctor and she must have been arrested or eliminated with the aim to hurt the enemy's morale.
Related Link: