Danish Prime Minister Helle Thorning Schmidt starts her two-day official visit to Vietnam on November 7.
The visit is made at the invitation of Prime Minister Nguyen Tan Dung.
Denmark and Vietnam set up their diplomatic relations in 1971.
The two countries' relations have seen fine developments over the past years, with two-way trade on a rising trend. Vietnam exports to Denmark garment, footwear, wooden products, metal products, handicrafts, electric equipment and coffee, while importing chemicals, mechanical products and milk from the country.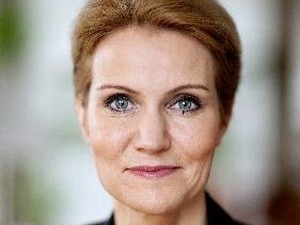 Danish Prime Minister Helle Thorning Schmidt (Photo: VNA)
Denmark was one of the first foreign investors in Vietnam , and by August this year, the country registered 101 valid projects worth 625 million USD, ranking 25 th out of 96 countries and territories investing in Vietnam .
Denmark is also among the largest providers of official development assistance (ODA) to Vietnam with over 1 billion USD provided since 1972.
Despite the 2009 financial crisis, Denmark committed 67.9 million USD in ODA to Vietnam in the 2010 fiscal year, an increase of nearly 6.6 percent compared to 2008.
The assistance focuses on infrastructure development, poverty reduction, sustainable development, administrative reforms, environmental protection, climate change adaptation and assistance to small- and medium-sized enterprises.
In the fight against climate change, Denmark is Vietnam's largest donor with 40 million USD for a programme on climate change adaptation and impact mitigation. Vietnam is the only country in Asia where Denmark implements a research programme on climate change adaptation.
On the occasion of the 40 th anniversary of their diplomatic ties, Vietnam and Denmark signed a joint statement on the establishment of their strategic partnership in climate change, energy, environment and green economy in November 2011.
During Prime Minister Schmidt's visit, the two sides will discuss measures to strengthen bilateral cooperation in politics, diplomacy, economics, trade, investment, education and training, and culture.
They will also seek ways to promote Denmark 's investment and trade cooperation projects in Vietnam , especially in sea port, maritime shipping, green technology, renewable energy and cement industry.
Danish Ambassador to Vietnam John Nielsen said the visit, the first ever made by a Danish Prime Minister to Vietnam , is a clear sign of strong bilateral relations between the two countries.
He further said that during her visit, Prime Minister Schmidt will launch a growth campaign in Vietnam, which is a step forward to the signing of a comprehensive cooperation agreement between the two countries in Copenhagen in 2013.-VNA