Agricultural production has faced with many issues comprising low investment capital, outdated processing technologies, asynchronous policies, and weak connectivity between farmers and businesses in production and consumption, according to experts.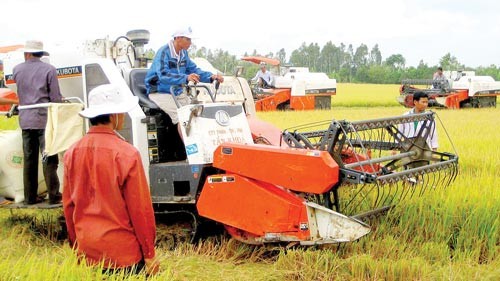 Rice production has been partly mechanized in the Mekong Delta (Photo: SGGP)
Head of the Economic Division under the Southwest Region Steering Committee Tran Huu Hiep said that Investment capital for agricultural industry in the Mekong Delta was low compared to total social investment capital. Processing technologies were outdated resulting in high cost prices and low productivity.
Mechanisms and policies in the agriculture industry contained many problems affecting investment attraction of non-public businesses in this field, he said.
Policies to promote the Mekong Delta's strengths and potentials are insufficient, asynchronous and even impractical.
Farming production has been tattered and unconnected in the Mekong Delta where farmers have produced on their own. Traffic system in remote area is not advantageous.
Market information has not been provided sufficiently to farmers who have long suffered low price and unsold condition due to production redundancy. Labor force in rural areas has been in reduction trend as the number of young people leaving fields for big cities has been increasing.
Agricultural expert Le Van Banh referred the shortage of dryer and warehouse systems to process and preserve rice and high loss ratio after harvest. By-products such as rice straw and husk have not been used up causing waste and environmental pollution.
Some fruits granted with GlobalGap quality certificate are salable in domestic market only.
Mr. Tran Van Tay, chairman of My Hoa grapefruit cooperative told Russia ordered to buy 200 tons of grapefruits a month at VND26,000 a kilogram October last year. However the cooperative was unable to meet the order because its 26 hectares of grapefruit trees produce only tens of tons every season.
The cooperative has been established for nine years but always been in capital shortage to broaden production.
Another big issue in Vietnam's agricultural production is from weak connectivity among farmers, businesses, scientists, and managers, said experts.
Few connectivity modals have been carried out for the last decade without results as expected because of many reasons. For example, spontaneous production has been a long habit of farmers, all level authorities have provided little instructions, not many businesses and cooperatives have been willing to join connectivity modals, and relevant polices have been carried out too slowly.
Minister of Agriculture and Rural Development Cao Duc Phat said that the connectivity was one of measures to restructure agricultural industry and assist farmers to produce and consume their products.
However, businesses and farmers-- two important links of farming production chain-- have operated nearly separately.
Business is the main bridge spanning farmers to market but the ratio of firms in agricultural industry is only 6 percent now, Dr. Do Anh Tuan, deputy head of the Institute of Policy and Strategy for Agriculture and Rural Development says.
It should be solved to develop a merchandise production industry, he said.