Vu Duc Hung, director of the Dau Tieng Irrigation Exploitation Company warns of the dangers of high levels of pollution flowing from daily wastewater discharge into the Dau Tieng Lake, which is causing the quality of water from becoming bad to worse.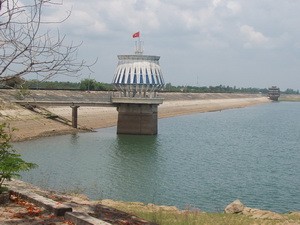 Dau Tieng Lake in Tay Ninh Province.
Hung was speaking at a seminar on management and efficient use of Dau Tieng Lake water. He blamed many companies were responsible for discharging wastewater into the lake.
The lake is being polluted for many years, despite the ban on aquaculture in the lake. Since 2005, nearly 1,200 fish breeding cages owned by nearly 200 households continue to pollute the lake.
Hung added that the current water level of the lake was too low to allow enough water supplies for agriculture and daily activities of residents.
Dau Tieng Lake is located 25km from Tay Ninh, 70km north of Ho Chi Minh City, on the way to the Cao Dai Temple and Ba Den Mountain. The lake covers 27,000 hectares and has a water reservoir of 1.5 billion cubic meters used for irrigation in Tay Ninh Province, as well as for other neighbouring provinces.