Hoi An celebrated a No-Plastic Bag Day on September 9 as part of its environmental protection efforts.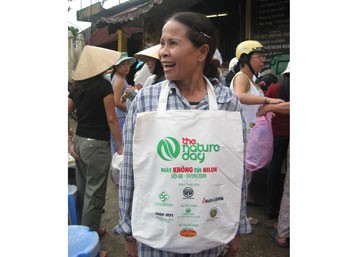 A Hoi An resident uses a paper bag on Sep. 9 (Photo: hoian.vn)
Hundreds of people took part in a bicycle parade to urge visitors and locals not to use plastic bags to keep the city green and clean.
Many volunteers traveled around the town to collect waste plastic bags and delivered free paper bags to shoppers at the Hoi An cloth market and people on the main streets.
The program aims to raise public awareness of the harm caused by plastic bags to the environment since they are non-biodegradable.
The campaign was organized by the Hoi An People's Committee, Center for Support to Combating Climate Change, and Science & Life newspaper.