Science and technology organizations and interagency scientists have made nonstop efforts to investigate the mass fish death in the central region and analysis results have focused on two groups of causes including chemical toxins and toxic algae as of April 26, said Deputy Minister of Science and Technology Pham Cong Tac.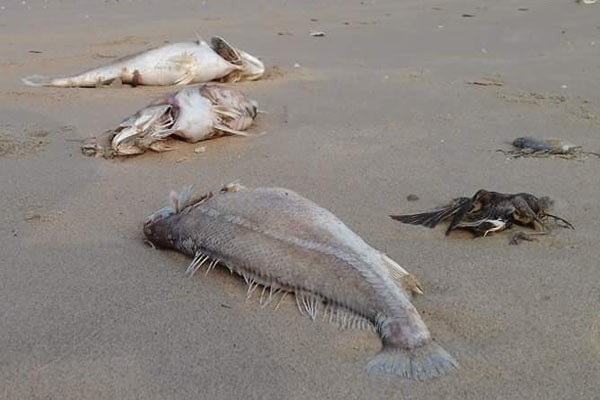 Dead fish washed ashore in the north central coast (Photo: SGGP)
Answering the press about the unusual fish death in April, the deputy minister said that the analysis results have terminated almost natural reasons from seism, temperature shock and diseases.

For the last one month the ministry has attempted to work with the Science and Technology Experts Council, related ministries and agencies to draw the incident's conclusion as soon as possible.

The Ministry of Science and Technology has been tasked by Prime Minister to coordinate with related agencies to investigate causes of the fish death.

According to Mr. Tac, groups of scientists have kept a close watch on the unusual fish death in four north central provinces including Ha Tinh, Quang Binh, Quang Tri and Thue Thien-Hue, which has stopped without any further abnormal phenomenon occurring in these areas since May 4.

The ministry has worked with the Vietnam Academy of Science and Technology to set up interagency working groups to do field surveys in the four provinces, synthesize information, take and analyze samples to estimate the situation and find reasons.
In accordance with the Prime Minister's instruction, the National Council of Science and Technology Experts have invited experienced experts from Japan, Germany, France, the US and Israel to address the fish death's causes.

They have supplemented data to estimate the issue and enhance reliability, accuracy and objectivity of investigation and affirmed the right access and direction by local scientists to the incident.

So far they have determined that the fish death is a large scale environmental incident and finding out causes of the incident requires not only the attendance of many agencies but also the highly professional analysis of many factors including initial field conditions. Separate analysis results are insufficient to create a basis for a scientific answer.

Deputy Minister of Science and Technology Pham Cong Tac said that they would find a convincible and internationally recognized conclusion over the mass fish death as soon as possible to report to the Government and people, Mr. Tac said.