Investigators have announced that a massive fire which tore through an 18-storey apartment building in Hanoi on March 10, likely broke out in a garbage collection site on the first floor.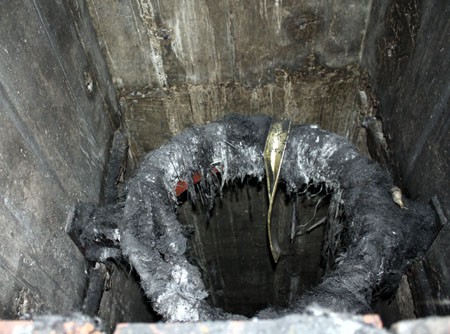 The burnt-out garbage shoots at the JSC 34 apartment block in Hanoi. Investigators say the March 10 fire that took two lives began at the building's first-floor refuse collection site. (Photo:Dantri)
To Xuan Kieu, head of the Fire Prevention and Fighting Department in Hanoi, said March 11 that the JSC 34 apartment block blaze that killed two people, probably ignited when burning refuse was disposed of in the garbage collection area.
Despite warnings, many residents often threw hot ash, or even burning coals, into garbage disposal sites, said Kieu.
 
In addition, the JSC apartment block lacked fire alarms and an automatic sprinkler system, Kieu added.
It took more than 80 firefighters and eight fire trucks to bring the March 10 inferno under control. Forty-four trapped victims were rescued, but two more perished from smoke inhalation.
The apartment block includes 180 units, of which eight are rented by foreigners.
This is the second major fire to break out at a Hanoi apartment building due to burning garbage in the last six months, and the fifth to occur in the last five years. The March 10 fire was the only one to claim lives.
In September 2009, another fire ignited in a refuse collection site and ripped through a 13-storey apartment block at No.25 Vu Ngoc Phan Street.

Related news: